I am a total
whovian
. I am a total nerd. Last year for Halloween I still had my short Blonde hair and dressed up like Starbuck from the new series of Battlestar Galactica. This year I still wanted to be nerdy.
I was actually going to be Rapunzel from Tangled since I had made two Flynn Rider vests (Pics soon to come in another post) but I just got this idea in my head and didn't want to give up on it.
I love Doctor who, and then became OBSESSED when I got to see David Tennant (The tenth doctor) and Catherine Tate (Donna Noble) in Much Ado About Nothing at the Wyndham Theater in London.
I really wanted to dress up as something from Doctor who. I didn't want to be a companion, because nothing they wear is very...distinct. I guess except for
Martha Jones' Red Leather Jacket
. But I don't care for Martha.
So my dilemma was...Who the heck do I dress up as from Doctor Who? I didn't want to be the doctor...Then I saw some photos of a different versions of a costume and had a Shakespeare moment. "That's really good. I can do it better." Then I remembered this moment from Doctor Who:
Which inspired my Halloween costume. I love the relationship between the doctor and the
Tardis
. Companions come and go, but he always has the Tardis. I love when Sarah Jane says to Rose Tyler, "Does he still stroke bits of the Tardis?" And I love the episode, "The Doctor's Wife" when the Tardis' consciousness gets put into human form so they can actually talk.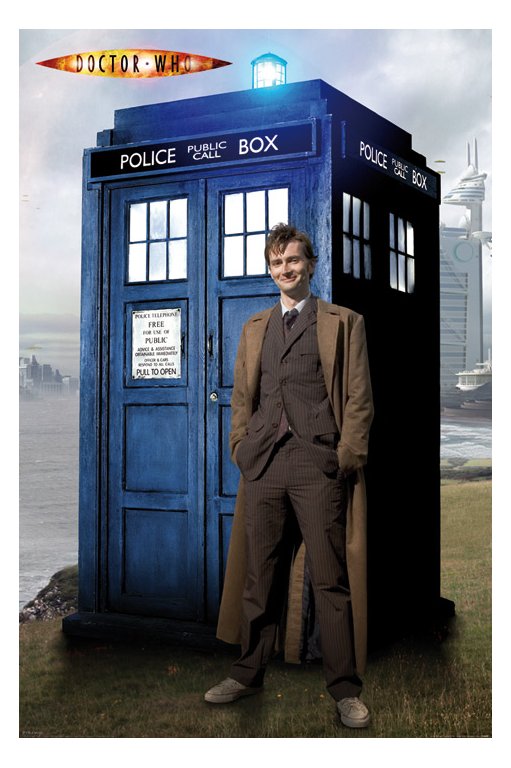 So I present to you: The Tardis in costume form:
It was SO much fun to make. I paid attention to the details. The Choker is the Public Call Police Box sign. I was going to put it on the dress, but opted for the choker.
The hat? It lights up. Yeah, seriously. One of my closest friends,
Brady Howard
rigged the hat so it actually lit up with LEDs inside.
The sign on my leg was based on the sign that is on the box obviously. I printed it off on printable fabric and then appliqued it onto the dress. I made pieces that mimicked the panels that are on the door. And one of my favorite details was the key around my neck. Some of my favorite Doctor Who moments is the moment where he trusts his new companion enough to give her a Tardis Key. The Key is always on a long white cord.
And what girl doesn't want the Doctor to come take her away and give her a key to the Tardis and take her to far away places?
This years costume was so much fun! And I had a blast designing it and making it! And I had fun wearing it to a huge party at the University and seeing who recognized it. I know it wasn't perfect, and there's a few things I wish would have done different, but all in all, I love how it turned out.
Happy Halloween!
(And I leave with you a few of my favorite Doctor Who Moments)